Entre Ilhas
Between Islands

Documentary / DCP / 76 min. / PT / 2021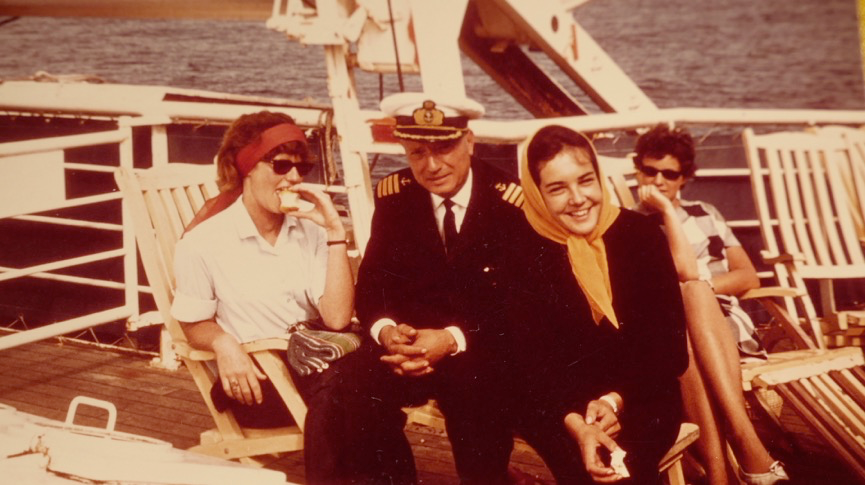 SYNOPSIS
Between Islands
travels along the 9 islands of the Azores and tries to understand how it was to live in this distant archipelago when airplanes were just a mirage. Azoreans remember ships, captains, thunderstorms, and unforgettable journeys travelling through the Atlantic to the island in front, or crossing the ocean during days to arrive to Lisbon, where they could study or treat an illness. On board the cruiser ship Santorini the film- maker follow the old routes, searching for the traces of a collective memory and imagining this other world. How much has life changed since then?
LOGLINE
Imagining ourselves in the Azores islands, 50 years ago, we want to feel how it was to live in the middle of the Atlantic Ocean in a time when aeroplanes were still a myriad, and the only way to connect to the others was confronting the rough infinitude of the sea.
trailer
Amaya Sumpsi
Amaya Sumpsi has been one of the programmers of FACA - Festa de Antropologia, Cinema e Arte de Lisboa since 2013 and also one of the coordinators in the Visual Anthropology and Arts Laboratory (NAVA-CRIA) of Universidade Nova de Lisboa since 2017. Her first documentary "Meu pescador, meu velho" premiered at RAI Film Festival in Edinburgh (2013) and was selected for several international ethnographic festivals. In Portugal, she won the Camacho Costa Award for best portuguese-spoken documentary at the festival Cine Eco-Seia (2013).
In 2018, together with 5 visual anthropologists, she directed "
Um Ramadão em Lisboa
", a collaborative documentary that premiered at IndieLisboa Film Festival (2019).
After finishing her Master's degree in Visual Anthropology, she's currently developing her PhD thesis and her new documentary "Entre Ilhas" at FCSH-UNL, mentored by João Leal and Catarina Alves Costa.
Director: Amaya Sumpsi

Original Language: Portuguese / English / Greek

Production & Distribution: Cedro Plátano (Portugal)

Institutional Funding: ICA (Portugal), RTP, Governo dos Açores - DRC ( Azores - Portugal), Atlanticoline, CRIA
© 2021 Cedro Plátano